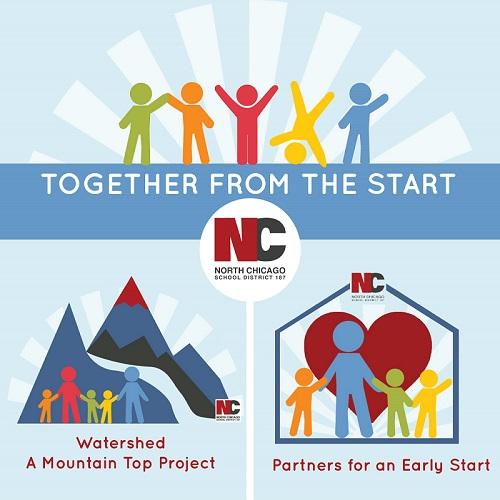 The early years of a child's life are crucial to their development. D187's Together from Start initiative leverages the power of family, school, and community working in partnership to support learning and growth opportunities in the critical years from birth to five.
Together from the Start is a comprehensive program that includes two key initiatives:
Watershed/A Mountaintop Project

Partners for an Early Start
Together from the Start supports families and child care providers with educational resources to achieve and increase kindergarten readiness.
(CLICK ON THE LOGO FOR MORE INFORMATION)
Watershed/A Mountain Top Project provides resources, support, and education to all families of children between the ages of 0-3 in the city of North Chicago. Our goal for Watershed is to promote kindergarten readiness for all North Chicago children.
(CLICK ON THE LOGO FOR MORE INFORMATION)